Let Us Entertain You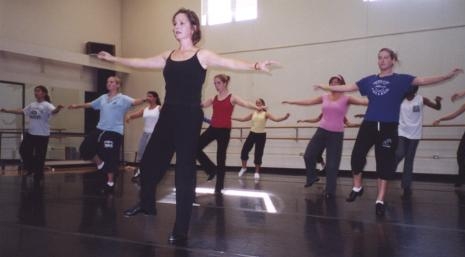 New chemistry teachers, learning how to tap dance.
The first part of my reflections on teaching high school chemistry focused on the differences between what we do in the classroom and what seems to be expected in academia. From there
I went into asking how it is that we can justify doing certain types of in-class demos, specifically demos dealing with group 1 elements. So I arrive at this point, and to me it's in a real sense a large part of the real problem with science education at the secondary level in general, but certainly in chemistry. These days we seem to be far more focused on entertaining students than in imbuing them with the skills that are a natural part of a science curriculum, and that moreover are a necessity for them to be successful in the world that they're about to step into. Today science teachers not only have to be members of their local teacher's union, but card carrying members of the local entertainment local as well.
Learning indeed should be fun, and on some level it should be entertaining as well, but a consistent cry that I hear in high school education is that we science teachers have to grab their attention, we need to "make" them interested. In the case of chemistry this is thought best to be facilitated through demonstrations. This seems to represent something of a pedagogical shift in learning from my days in high school chemistry where, for the life of me, I can't recall a single demo. I recall a lot of hard work in class, a lot of labs where we got our hands dirty, but nary a demo. Maybe in my school we were different, but then I know that throughout my four years of high school education I never had the sense that I was there to be entertained by my teachers. No, my recollection was that I was there to learn, and I wasn't always going to enjoy the experience and sure enough I didn't. The problem isn't simply a matter of personal nostalgic dissonance, but rather that entertaining students doesn't really seem to work.
In Feb of this year Achieve.org released a survey that it commissioned titled "How Prepared Are Public School Graduates?" [Blogger's note: if you click on the Achieve hyperlink a PowerPoint presentation for the study can be obtained to the right of the home page.] This survey included four groups, graduates of high school that went to college, graduates that went onto work after high school, college instructors at the freshmen level, and employers of high school graduates. The report covers a broader range of concerns than what I want to address here, which is primarily focused on the sciences. With that in mind, this is what we can glean from the report:
I. High school graduates felt there was a gap in their science and math training:
College students: 44% and 42%; non-college students: 51% and 41%
II. College instructors and employers felt there were gaps in the following areas for recent
high school graduates: Science: 36%/24%; Math: 52%/32%; Thinking analytically: 66% /42%; Work and study habits: 65% /50%; Applying what's learned in school to solving problems: 55% & 39%
The NY Times in Students Say High Schools Let Them Down informs us that the Achieve results are consistent with other studies showing similar gaps between what students are learning in high school and what they actually need to know to function in a post-secondary world.
To add fuel to the fire, this past week the Times ran Many Going to College Are Not Ready, Report Says , which addressed the performance problems seen with students taking the ACT. For those not in the know, per the ACT web site:
The ACT is America's most widely accepted college entrance exam. It assesses
high school students' general educational development and their ability to complete college-level work.
The multiple-choice tests cover four skill areas: English, mathematics,
reading, and science.
The Writing Test, which is optional, measures skill in planning and
writing a short essay.


We learn from the article that out of the 2005 participants in the ACT only 26% of test takers in science and 41% of them in math were able to meet the established benchmarks for those areas of study.
It seems that no matter how you look at it we're sending high school students out into a world ill-prepared for either college or the work force. Moreover, as per the observations of college professors and employers, these students have insufficiently honed their thinking abilities, nor have they acquired the necessary work habits to tackle and easily fit into the environments high schools are ostensibly intended to ready them for. Is it any wonder why a gimlet perspective might bring into question an emphasis on demos and entertainment when the results seem so under spectacular? Entertainment is certainly not the main culprit here, but it's part of the stink of the problem and a skewed perspective that seems to put a greater emphasis on entertainment and grabbing student attention with fire, smoke, and explosions, vice with the warning that if you don't get this now, if you don't make the effort, if you don't take this seriously and invest in it some serious work, you'll be at a loss when you leave here and you'll be trying to make up for this at a time when you have the least amount of time and opportunity to do so.
It does seem that getting back to the basics is in order. This doesn't necessarily obviate demos in chemistry, but rather it should set a standard for demos that include clear cut pedagogical goals and cost justifications for special handling and storage, which together would likely eliminate many demos, or maybe not; it'd all depend on how a teacher went about this and how creative he or she was their justifications and student expectations. However you cut it, though, demos solely for entertainment purposes is a no-go, and somehow, and frankly this is the great question and problem, we need to figure out how to re-install the vigor and rigor in our science curriculums such that we help to turn out thinkers who are well-prepared for the world that greets them and which is not at all otherwise to be friendly to the slow of foot or dim of mind.