What Should We Be Teaching In HS Chemistry?
I doubt that there's a teacher for any subject that hasn't asked a question similar to the one addressed in the title to today's blog. They may not have been pondering chemistry but rather history, geography, math, etc., with specific regard to what it was that they should be focusing on to make for the best learning experience for their students, with the idea being to best prepare them for whatever future lies before them. This becomes a problem for many teachers, many of whom are convinced that what they know from their own past experience is what meets the need, though in the case of chemistry specifically there seems to be a disconnect between what high school instructors feel is important and what college instructors are looking for.
In chemistry there are two widely held perspectives regarding what the goal should be for a chemistry curriculum:
1. Preparing students for college chemistry.
2. Helping to mold a more scientifically aware and comfortable citizen.
Goal #2 is not divorced from goal #1, though when the curriculum focus is largely on prepping students for college chemistry (as opposed to just college) the emphasis that might otherwise be given to nurturing a more scientifically literate or aware citizen is very often subsumed, if not all together lost, in the quest for some ill-defined goal of college chemistry preparation. Deters (1) found that high school chemistry teachers were split about 50/50 on which of the two goals were most important.
Specifically it is found (1 - 4) that while the goal may be to create students who are best prepared for college chemistry, what this requires is not determined in concert with college instructors but otherwise based on the assumptions and beliefs of high school teachers, various levels of state education administrators, parents, and school committees/districts. Efforts have been made to identify and better understand this problem (3 - 4) in the past, and most recently by Kelly Deters (1 - 2). The following chart is an amalgam of information provided by Deters (1 & 2) based on the results of surveys of college instructors and high school teachers presented similar lists of topics. The college instructors represent 96 of 300 attendees at the Biennial Conference on Chemical Education in August 2002 at The University of Michigan (2). The instructors were asked to choose the top 5 topics from a list provided (shown in the table to the left.) The high school teachers represent 571 teachers located throughout the country who were in contact with Deters from her first article (1) and were asked what topics within chemistry that they were teaching.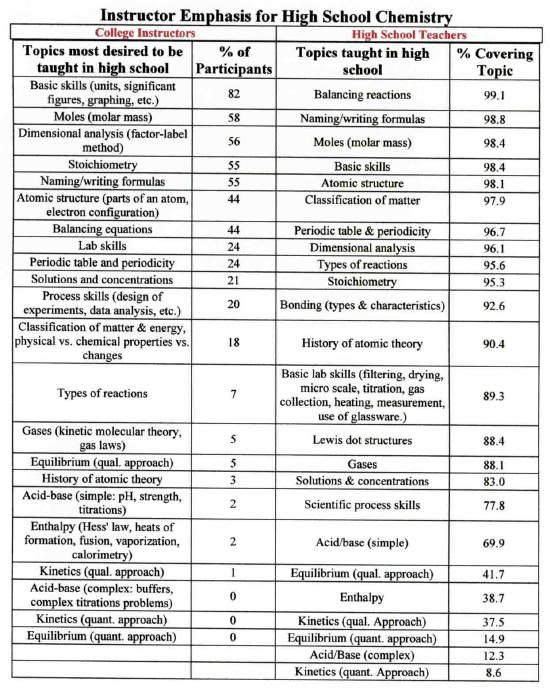 What's most striking is the divergence in topics considered to be important by both groups. A comparison of the two shows that there's clearly a disconnect between what college instructors desire and what high school teachers feel that they should be providing to their students. Deters shares with us: "These surveys showed that while the high school teachers focused on content and knowledge, the college professors tended to focus on personality traits, higher order thinking skills, study skills, and interest" (1).
Mitchell (3 - 4) approached the topic differently from Deters but came to many similar conclusions (it should be noted that Mitchell's survey population of college instructors was larger than Deters, about 280.) Mitchell found that college instructors were more concerned that high school students come into the college environment with good study habits, reading skills, basic math skills, and some measure of interest in and understanding of science: "Higher level instructors prefer that lower level instructors concentrate on teaching students how to study and think in general, leaving the development of a specific knowledge base about the subject to the "experts""(3). The following points come through in the references cited:
1. College instructors do not feel that high school chemistry should be a mini-version of a college chemistry course (3).
2. There's little value in emphasizing more intricate/difficult chemistry topics, i.e. content, inasmuch as students lose much (up to 70% within a year) of what they learn after leaving the course (1, 3). Deters (1) quotes Marvin Gold (5) on this subject: "My plea is that we (all of us, high school and college teachers alike) attempt to create a better balance between the teaching of content and the development of cognitive skills. The students who do not take college chemistry will forget almost all of the content. Those who take some college chemistry will begin to forget it unless it is applied to their own careers. Who needs to know a lot of content? Practicing chemists, that's who, and they will learn the content as they continue on in upper level courses and in the day to day practice of their profession."
3. The ability of students in high school (research indicates that one half or more students fall into this category) to successfully grapple with and grasp the more abstract aspects of chemistry is limited by their mental development at the age they normally encounter a course such as chemistry (1). While much of the basic material can be dealt with easily enough by the vast majority of students, the more abstruse topic areas can be problematic and result in frustration for the student concerned.
4. Teachers are trying to teach more than they're able to given the time constraints placed on them - Deters' results showed that 75% of teachers (a total of 571 found throughout the nation) participating in her survey are not able to cover all the topics they would like to in their courses. Given that a significant amount of what they are teaching is not considered by collegiate educators as important preparation for college level courses, the question arises as to whether teachers might find themselves more productively using their time focusing more on the basics, real-life applications of chemistry, and inquiry-based learning which in the long-term may well encourage students into science related fields professionally (1).
What we teach in high school is heavily influenced by what we've always done and an apparently mistaken belief, reflected in the content heavy curriculums of the science teachers surveyed, that heavily content laden courses are the best route for college prep of students. Deters (1) makes the following point:
"As many surveys of college professors indicate that content is less important than process skills, study skills, interest, and lack of fear in the subject, then high school teachers would better prepare their students by setting these as their goals and using content as the avenue through which to meet these goals."
Where the line should be drawn in content, how much emphasis should be placed on process skills, where inquiry-based teaching and learning should fit into the overall plan (Deters found that while most chemistry teachers believe this is an important tool in the teaching toolbox, about 45% of the teaching population is not using it (1)), how we should convince those in charge that, as Deters puts it, "... that less can be more ...", and how we can work to increase interest and reduce fear in chemistry in particular and science in general, all stand as some of the more pressing challenges for chemistry teachers today.
1. Deters, K. Accepted for and pending publication J. Chem. Educ. as of Aug 2005. What Are We Teaching in High School Chemistry?
2. Deters, K. J. Chem. Educ. 2003, 80,1153. What Should We Teach in High School hemistry?
3. Mitchell, T. J. Chem. Educ. 1989, 66, 563. What Do Instructors Expect from Beginning Chemistry Students? Part I
4. Mitchell, I. J. Chem. Educ. 1991, 68, 116. What Do Instructors Expect from Beginning Chemistry Students? Part II
5. Gold, M. J. Chem. Educ. 1988, 65, 781. Chemical Education: An Obsession with Content.
Note: Blogger is willing to send the articles (collectively about 1 megabyte) to anyone interested who sends an email request (not a request through the comment section of the blog) to science_teach(at)cox(dot)net.