Patrick Henry College and Dominion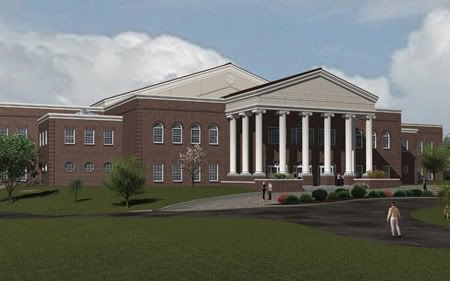 A picture of Patrick Henry College (PHC) taken from Affordable Building Concepts
Last week on Fresh Air Terry Gross interviewed Patrick Henry College's Michael Farris. I highly recommend listening to the interview, first for all the usual reasons to do with listening to an excellent interviewer such as Terry Gross, and second because if you listen to Farris you realize that whatever this guy may be he's not a foaming at the mouth zealot who makes no sense and shouldn't be taken seriously; Farris and those like him need to be taken very, very seriously.
Two weeks ago Gross had Michelle Goldberg, author of Kingdom Coming: The Rise of Christian Nationalism to discuss Christian Nationalism. I've just started the book myself but Farris has no small part in it, at least in the Introduction titled "Taking the Land":
Michael Farris, the founder and president of the evangelical Patrick Henry College, calls his campaign to turn Christian homeschooled students into political cadres Generation Joshua. The name has a very specific biblical and martial meaning. Joshua was Moses's military commander and successor as leader of the Israelites; while Moses brought his people out of Egypt, Joshua led them in seizing the holy land. Farris's Generation Joshua has a less bloody mission, but it is imbued with an Old Testament dream of exile redeemed by conquest. The holy land is America as Farris imagines it. The enemy is America as it exists now.
And then on the next page:
What Farris wants is a cultural revolution. He's trying to train a generation of leaders, unscathed by secularism, who will gain political power in order to subsume everything -- entertainment, law, government, and education -- to Christianity, or their version of it. That might sound like fantasy, but it's worth pondering what Farris has accomplished so far.
Goldberg then goes on to detail how PHC, with an overall student population of about 500, has the highest placements of interns, 7%, of all colleges/universities in the U.S., with the exception of Georgetown. Generation Joshua students, not just PHC students, actively work on the campaigns of politicians they believe will support the PHC agenda - this certainly is their right and there's no question of this, but we're talking about people working on issues that are equivalent to what the Taliban imposed on the Afghanis, though with a Christian flavoring. These aren't people out there simply demonstrating, they are very much intertwined into our political system and are very much interested in using that system to project and impose their Christian perspective.
It's worth being aware of this so that we don't kid ourselves into thinking that there aren't people out there who don't believe in the secular foundations of the Constitution, who believe that this is a Christian nation destined to carry out Christ's work, and who are very much interested in all of us living under the Christian version of Sharia, the Islamic flavored legal system imposed in many Muslim countries. Farris and those who believe like him want to take over this country in a very real sense, and in the course of this completely change what many of us take for granted as fundamental freedoms and inalienable rights. Don't think that these people are out there roaming the streets proclaiming the imminent end of the world; no, they're out there working to end your way of living and what you're expected to believe, and they're very, very serious about this.