Sure We Have a Vaccine, But We Want You Scared!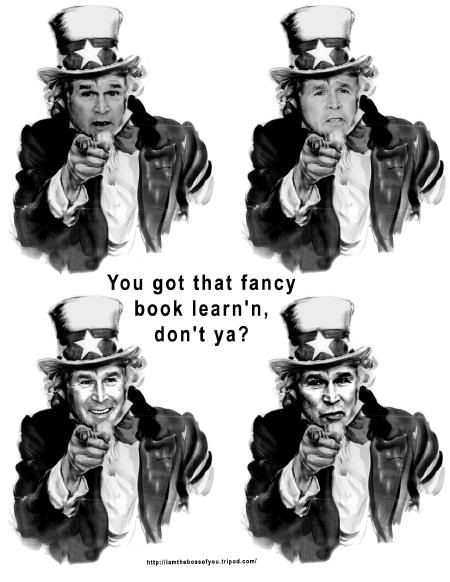 Taken from I am the Boss of You
The White House vs. the Laboratory is Michael Specter's piece in this week's The New Yorker
[Note: all quotes in this blog are taken from Specter's article ]. Anyone who has visited this blog with any degree of regularity knows I have no love for this Administration and so much of what it is responsible for, but Specter's article highlights another flavor of Administration Christian fundamentalist horse manure that constitutes a threat to public health and safety.
Human papillomavirus (HPV) comes in about 100 different strains, two of which are responsible for genital warts, and another two that have been tied to cancer. As one would rightly suspect, the two tied to cancer are of particular concern in the medical community. The carcinogenic versions are STDs, and while they may affect either sex they predominately are responsible for cervical cancer. The problem with HPV is that there are no tell-tale indicators that you've been infected with the cancerous version until the damage is done, and there's little to protect oneself from the virus with, though condoms are better than nothing - well, of course there's abstinence and that's pretty much 100% effective against all STDs . About 5,000 women die from cervical cancer every year in the U.S., and it's believed that a large majority of those cancers are attributable to the virus.

But there's good news, GlaxoSmithKline has come up with a vaccine for HPV and it appears that when given early enough, in childhood before sexual activity has begun, it effectively protects women from HPV infection. So what we have here is a bonafide cancer vaccine and we should all be very happy. Of course that's a bit too simplistic, i.e. we have a vaccine against a deadly disease and therefore should rejoice. No the Christian Right, with its odd logic and perspective, weighs in with Leslee J. Unruh, the founder and president of the Abstinence Clearinghouse, telling us:
"I personally object to vaccinating children when they don't need vaccinations, particularly against a disease that is one hundred percent preventable with proper sexual behavior. Premarital sex is dangerous, even deadly. Let's not encourage it by vaccinating ten-year-olds so they think they're safe."
Wow ... don't need vaccinations ... what calculus of life does anyone use to determine if one needs a vaccination or not? Ok, I can appreciate not being vaccinated for smallpox, a disease which has effectively been eradicated from the planet (barring that stored in U.S. and Russian government freezers), but HPV is everywhere so how do you rationalize not vaccinating against a reasonable possibility of infection, which may result in a deadly medical condition? Should we also not provide liver transplants to alcoholics? I mean why should we give an alcoholic the hope that they may be able to live a normal life after they destroyed their liver, doesn't that just encourage their addictive behavior? Should we withhold insulin from type II diabetics who managed to incur their disease due to bad life habits - let them know that a miserable death is the penalty for eating too many Krispy Cremes? Or more directly in keeping with Ms. Unruh's philosophy, let's withhold antibiotics from anyone who gets a bacterial STD, surely anyone who indulged the folly of premarital sex deserves the dementia that comes with late stage syphilis.
And this isn't just about HPV, no indeed, as Reginald Finger, who sits on the Center for Disease Control's Immunization Committee, which is responsible at the national level for recommending vaccinations and when they're provided, in discussing the possibility of an HIV vaccine, stated:

"We would have to look at that closely. With any vaccine for HIV, disinhibition [a medical term for the absence of fear] would certainly be a factor, and it is something we will have to pay attention to with a great deal of care."
Finger's point is that the "fear" aspect of HIV is a good thing, it supports a rationale for abstinence. So if an HIV vaccine is a dis-inhibitor then the disease itself must be considered to be an inhibitor; only some religious loop job would come through with a logic that involves a virus in some grand moral design in support of abstinence, and this particular loop job is part of the process that determines if, when, and to whom vaccinations are given.
The problem is that this application of morality to disease is rampant in government these days. Specter's article brings us Senator Tom Coburn (R-Ok), a family physician no less, who argues that since condoms can fail, the nation should stop relying on them, and who from personal experience with treating HPV infected patients states that "Studies have indicated for years that promiscuity was associated with cervical cancer." Well, yes, fine, and what does that have to do with trying to prevent or cure the disease? What logic causes one to think that they're going to cause an entire nation, or world for that matter, to suddenly come on board to abstinence? And do these people have evidence to support that strictly abstinence-based programs are the cure-all to diseases like HPV? No, they don't, in fact what's out there supports quite the contrary. So fundamentally they must expect that at least good Christians will be abstinence adherents and the rest of the world can go waste away and die - a sort of indirect religious-based genocide.
Non-abstinence is not illegal in this country, or for that matter in most countries, and people like Unruh, Finger, and Coburn would relegate those they consider to be "promiscuous" to a death sentence, or with otherwise having to wrestle with a deadly disease for the rest of their lives all in the name of a faith-based moral agenda. That is morally wrong, in fact unconscionable in any rational perspective except, it appears, the Christian Right's. There are many good reasons to be working to cause a change in this government, and frankly Specter's article highlights an excellent one.