She Arrived This Morning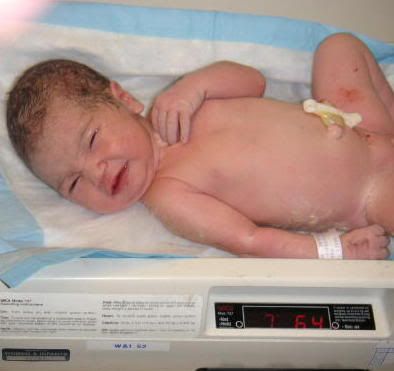 It all started around 4:30 in the afternoon yesterday, we wound up in the hospital around 6 that evening, and at 10:06 the following morning out she came, Sogand.
The nurses and doctors at Women and Infants' Hospital were flat outstanding. Helpful, caring, and professional to a person, doing everything they could to make this as easy and quick as possible, but making it clear that they were working with us, not just driving the show on their own, for their own reasons.
My wife is my hero. She never complained, never yelled, never screamed - I have no clue how she managed that, I have no idea where she got the strength, I have little doubt that I would have found it personally pretty damn near impossible to show the class and guts she did - I adore my wife.
And this one - here she is, maybe all of 10 mins old, and the second I saw her, this strangely formed human mass, first hung upside by her legs, covered in the mess of being born, whose umbilical cord I got to cut, separating her from her mother and suddently bringing her into my life, too. I fell totally, heads over heels in love with her in an instant. I never have experienced anything like this, I have no clue where this comes from, but I know she's now everything to me in a way that only my wife came close to filling before. I know that I have much to learn about her, but already I can catch a glimmer of personality and personhood, and my guess is that this is going to be a very interesting young lady indeed.
In the end this is what I know - I'm happy, a bit scared, and glad to have experienced this moment.