Faith-based Educatshion and Scientz
"Mr. President, could you please explain Darwin's Theory to us?"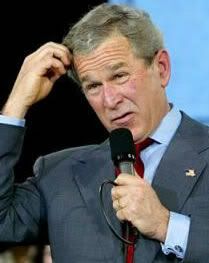 I don't normally get on a rant about the ridiculousness of intelligent design, largely due to the fact that so many others do it FAR better than I ever could, to wit: Pharyngula and The Panda's Thumb, to name but two. The last time I got into anything about ID was when the Smithsonian provided viewing space to the Discovery Institute for its ID flick, The Privileged Planet. I got a bit hot, sent off some letters, etc., and I had good company then. Well, the "I got a problem with ID" crowd is riled up again, and this time the stick stirring is coming from the very top, from our very own president.
There are many out there in the blogosphere who in fact have as much of a problem with ID as I do [alas, while I haven't gone looking for them, I'm also sure there are many out there in the blogosphere who have no problem with ID at all.] If you want some indication of some of who these are I'd recommend a quick trip to Pharyngula: Bush endorses Intelligent Design creationism to get a sense of how many people are riled up about our President's endorsement of "teaching the controversy", which is code for teaching intelligent design in our K - 12 schools.
We have so much else that's faith-based these days it should really come as no surprise at all that our president is pushing for faith-based education as well. It's not important to teach "real" science, to make students understand a true "theory" [note: Bush's own science advisor has come out and stated very clearly that ID is NOT a scientific theory, but why pay attention to
him when you speak to a "higher power"?] no, we should interject a modicum of faith, in at least biology anyway, to make sure that not only is no child left behind, but that no Christian right agenda to be foisted on the American student is without a chance to foul their brains.
What's irritating about this is that it's a controversy at the non-collegiate level. Mind you, it's not that college students are all ardent evolutionists, hardly, but the Christian right has not bothered to try and make their case at that level in education. I suppose that's a good thing for were this an issue there we'd likely really be in trouble. It's bad enough, and serious enough to merit the attention of anyone dedicated to true science, that we're having to deal with this in our k - 12 institutions, at an age that's ripe for the ID people, but also ripe to inculcate these students with true science, something we have a hard enough time doing as it is. When the president of the United States doesn't know enough to know how much he undermines science in this country, and makes us look foolish as a nation by spouting off about something he knows nothing about, well, what can you say? Should it come as a surprise? No, certainly not. Does it sting just the same? Damn right it does, and it pisses me off more than a bit. I think it's time to make a long overdue donation to the National Center for Science Education.