What Kind of War is it When We All Don't Feel the Pain?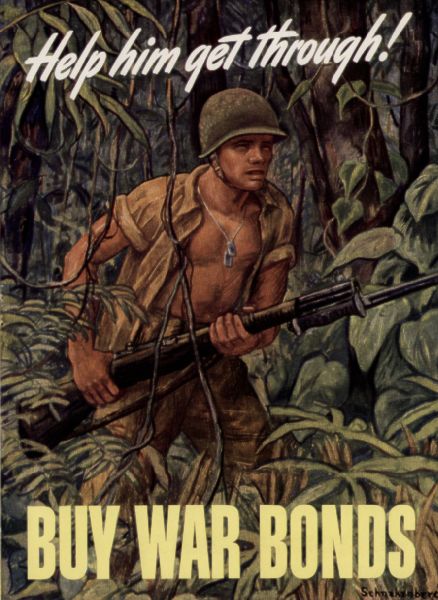 All Quiet on the Home Front, and Some Soldiers Are Asking Why by Thom Shanker ran on Sunday. From the article:
From bases in Iraq and across the United States to the Pentagon and the military's war colleges, officers and enlisted personnel quietly raise a question for political leaders: if America is truly on a war footing, why is so little sacrifice asked of the nation at large?
There is no serious talk of a draft to share the burden of fighting across the broad citizenry, and neither Republicans nor Democrats are pressing for a tax increase to force Americans to cover the $5 billion a month in costs from Iraq, Afghanistan and new counterterrorism missions.
There are not even concerted efforts like the savings-bond drives or gasoline rationing that helped to unite the country behind its fighting forces in wars past.
"Nobody in America is asked to sacrifice, except us," said one officer just back from a yearlong tour in Iraq, voicing a frustration now drawing the attention of academic specialists in military sociology.
You'd think that with a war on that's up to this point sucked up over $200 billion dollars at a point in our fiscal history when we've actually cut taxes (we're spending more at a rate we didn't anticipate and still can't anticipate, but cutting back on the taxes that we use to finance that spending --- I'll never figure this out), that something would be asked of us, to help us share the pain in this endeavor. But that's the point, there's no pain to be felt, there's not much being asked of you and me, and for those with family members who've been killed or maimed in the war they're small potatoes and they don't count, at least not to the extent that the rest of us come close to feeling whatever they've had to go through and they sure as heck don't make enough of a political constituency to make any sort of blip on a congressperson's or senator's radar screen.
I read or hear people talking about a possible draft --- it's not going to happen, I'd bet money on it. The reason for that is first the military doesn't want it (it takes far too much to train new recruits that you only get to keep for four years vice the minimum of four you get with volunteers), and lastly, and more importantly, it would indeed force ALL Americans to look at what they have to sacrifice in support of misguided endeavors such as the one we're in now. Frankly that's likely a good thing, but politicians like Bush aren't about to go there; he doesn't want you to feel any pain at all.
Bush's answer to this sense of disproportionate sacrifice is to build a volunteer corps, to wit:
In an interview, Douglas J. Feith, the under secretary of defense for policy, said that discussions had begun on a program to seek commitments from bankers, lawyers, doctors, engineers, electricians, plumbers and solid-waste disposal experts to deploy to conflict zones for months at a time on reconstruction assignments, to relieve pressure on the military.
When President Bush last addressed the issue of nationwide support for the war effort in a formal speech, he asked Americans to use the Fourth of July as a time to "find a way to thank the men and women defending our freedom by flying the flag, sending a letter to our troops in the field or helping the military family down the street."
In the speech, at Fort Bragg, N.C., on June 28, Mr. Bush mentioned a Defense Department Web site, Americasupportsyou.mil, where people can learn about private-sector efforts to bolster the morale of the troops. He also urged those considering a career in the military to enlist because "there is no higher calling than service in our armed forces."
Well, gee, let's just roll out the volunteer wagon and scoop us up some lawyers, electricians, and solid-waste disposal experts (correct me if I'm wrong, but aren't most of those guys in the mob, or have I been watching too many episodes of the Sopranos?), ship them over to Iraq where they, too, can get pissed off about working elbow to elbow with contractors doing the same thing but who are being paid megabucks, on our collective tax dollar, for being there. I'd guess that they're just beating all those volunteers with sticks there's so many of them.
We're building up an extraordinary debt due to this "war", a debt that will more likely than not be passed down to our children, and the men and women actually fighting the war or in other ways making significant sacrifices (a supply clerk, who may never "see action", in Iraq is still in a dangerous environment and if they're a reservist they're away from home and their job, not an insignificant sacrifice) are legitimately starting to ask why in the world are they the only ones expected to give up something, and mind you in their cases it's very possibly their lives we're talking about here, to support this war on terror?
On some level you have to give people like Bush credit when they manage to take on huge endeavors that they don't ask the average Jane or John to worry about, in particular with having to pay for it. As I said, Bush doesn't want you to feel pain, he doesn't want to inconvenience your day-to-day life, he'd rather you make your pain and inconvenience an inheritance, something you can pass along to the next generation. That's Bush gets away with this is nothing shy of amazing, but that we let him, in all the ways that he's managing to do it, says a lot about us that's not very good to consider and sure and heck will be hard to explain to our kids and grandkids.